When was the last time you simply worshipped with the Holy Spirit?
I mean really placed all of your cares and worries down at the feet of the Father.
Were you singing and dancing before Him?
Do you remember what song was playing?
Do you remember where you were?
Do you remember the peace you felt after it was over?
Let's go back to that place just for a second…
With all the distractions and noise present in today's world, it can be easy to become absent minded with our worship time. There is so much on our plates and activities that we have to make sure we are present for. For some of us, our recreational time with family, friends, and even our personal time has to be penciled in and prescheduled. Phone apps and reminders make it easy for us to pack our schedule tightly and leave just enough breathing time to maintain our sanity.
Now, I love the era that we're in because it allows for many great opportunities to be set up with the click of a button. With the use of technology, we have access to the entire world through social media. We can tweet, snapchat, and engage in meaningful conversations with people we once had limited access to. What an amazing time to be alive!
However, with more options comes a greater responsibility to hear God's voice now more than ever before. In order to do that, we must be tethered to the Holy Spirit and know without a doubt who He is.  
I remember in my quiet time with the Lord one day I was running through a couple of things. I can recall distinctively making a checklist of items I had to "follow up" with Him about. God stopped me in my tracks and said, "Your prayer list is not my to-do list."
I laughed because of how blunt the Holy Spirit had been with me and immediately felt ashamed that I had reduced my Holy, powerful, and risen Savior down to a mythical genie that was here to solve all my problems.
God is absolutely available to help us through this life, but His authority and presence is not merely here so that we can get everything we ask for.
As His children, we know He already has plans for us that are good and predestined. Our purposes become fulfilled as we walk in His will. In order to do that, we must understand who we are in Him and how He sees us. That identity only comes with learning more about The Father and realizing how absolutely unmatched He is. We must rest in His divine power as He orders our steps in life.
Think about it, if we were made to do everything ourselves then Jesus would have never had to die on The Cross!
His name is so great.
There's an amazing song by Gospel artist Todd Dulaney that is topping the Billboard Gospel Airplay chart entitled Your Great Name.
The lyrics state:
We love to call your name
It's something we cannot explain
That happens when we proclaim
Your great name, your great name

King Jesus, no other name
King Jesus, none stronger
We can call on you
Thing changes
When we call on your name
I love this song because it is a reminder of the relief that follows calling on the name of Jesus. I invite you to take a listen here and (if you're like me) watch how quickly it becomes your anthem.
In the book of John, Jesus speaks to His disciples and says:
Believe me when I say that I am in the Father and the Father is in me; or at least believe on the evidence of the works themselves. Very truly I tell you, whoever believes in me will do the works I have been doing, and they will do even greater things than these, because I am going to the Father. And I will do whatever you ask in my name, so that the Father may be glorified in the Son. You may ask me for anything in my name, and I will do it.
John 14: 11-15
Let us always remember that there is power in the name of Jesus.
---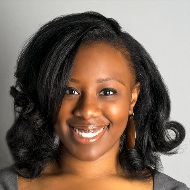 Vannesia Darby is an experienced, results-driven digital marketing consultant who has launched successful online campaigns for brands such as Sony Music, Universal Music Group, and the YMCA. A dynamic public speaker and writer, she helps others pursue their passions while creating a vibrant culture of success.
Her candid and thought-provoking blog posts have been published on online outlets such as Teen Vogue, Blavity, Thought Catalog, and Madame Noire. Owner of the digital marketing agency MOXIE Nashville™, she strives to uplift others through various in person and online media efforts. Visit http://www.moxienashville.com/
Comments
Comments