When You Want To Complain, Remember God's Promise
The other day, I was working with someone to book a flight for an upcoming event I am speaking at. I was so intent on weighing out the various choices as we sifted through prices and pondered different options.
"Okay, I can fly in here and then book a car to drive to the event," I thought aloud, "or I can fly directly into the city and just take a Lyft to the event."
The person I was working with on the other end of the phone heard my self-talk and stated, "See! I know you travel a lot. It probably would have been easier to let you book it yourself! I never liked doing this kind of stuff."
Although the comment made me chuckle, I was really laughing because had this been me 4 or 5 years ago, I probably would have passed out from anxiety. I hated to book any sort of travel arrangements. I would always be overwhelmed with the plethora of options, hidden fees from third-party sites, the various loyalty numbers I had to keep up with, and the list goes on. Now, everything is easily accessible on my computer or my phone apps and it's simply a plug and chug situation.
"It wasn't always like this," I started, "I booked so much travel for artists when I worked at different companies in the music industry, I finally got the hang of it. But trust me, it took a while!"
We both laughed and secured the most cost-effective option before hanging up the phone. The process maybe took 20 minutes in total, but before I moved on with my daily tasks, I paused for a second to have a moment with God. You see, I remember when I was so overwhelmed with booking flights, cars, and hotels for artists, bands, background singers, and road managers. The process was extensive and exhaustive.
I remember how approvals from the higher-ups sometimes took days, and I would have to be the one to tell people that after all the hurdles we went through, the flight was sold out.
I remember messing up hotel accommodations and rooms not being available when I requested early check-ins and seeing the entire band sit in the lobby with instruments and all (imagine 10 tired people glaring at you and there's nothing you can do about it).
I remember having to tell my boss that I forgot to book a flight for a conference and now we've incurred an extra cost of $400.00 (yeah, that was awkward).
I have stories for days, but you get the picture! The thoughts still make me cringe a little bit. I felt like such a loser!
However, I also remember when I became the "go-to" person for travel requests – it was shocking.
I remember number crunching until my pens ran out of ink because I treated the company travel budget like it was my own. I remember finding favor with secretaries and asking them to run my approval above anyone else's (and they did!).
I even got to the point where I had travel meetings for major festivals which included my intense color-coded spreadsheets for ground transportation to make sure everyone was secure before their feet hit the floor.
And now I am able to book my own travel in my sleep and I actually prefer to book it myself! Now, I am able to get the lowest cost option for others and I can approve options quickly so marketing assistants don't feel incompetent like I did.
I realized that everything I went through was merely a season of preparation for moments such as these. God softly reminded me about Romans 8:28:
We know that God makes all things work together for the good of those who love Him and are chosen to be a part of His plan.
We have to trust that God knows what He's building inside of us. For me, it was booking travel arrangements, but what is it for you? What area of inefficiency do you feel like, "God – I'm just not built for this?"
I challenge you to envision what proficiency in that area looks like and ask God to turn your heart towards Him in your weakness. Remember that in our weakness, God's strength is perfected (2 Cor. 12:9).
When you want to complain, just remember that it will all come together soon enough.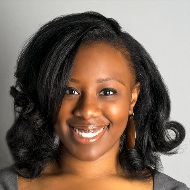 Vannesia Darby is an experienced, results-driven digital marketing consultant who has launched successful online campaigns for brands such as Sony Music, Universal Music Group, and the YMCA. A dynamic public speaker and writer, she helps others pursue their passions while creating a vibrant culture of success.
Her candid and thought-provoking blog posts have been published on online outlets such as Teen Vogue, Blavity, Thought Catalog, and Madame Noire. Owner of the digital marketing agency MOXIE Nashville™, she strives to uplift others through various in person and online media efforts. Visit http://www.moxienashville.com/
Comments
Comments